How are you doing? Boy, this weather feels great doesn't it? Just makes you want to sit at the piano and write a song about it, huh? (Well, some of you might feel this way!)

This issue of eNotes contains an audio lesson on how to accompany yourself playing while you (or someone else) is singing. You know, it's kind of my specialty, (since I am a pianist and singer) to show people how to combine the two.

And singing and piano complement each other so well. Singing helps the pianist by focusing attention on phrasing and building breath within a melody. Playing piano helps the singer by teaching them about the importance of harmony and rhythm, the backbone of a song, upon which the melody rests. So we will explore this theme today!

http://audiopostcard-007.com/Y.asp?9984907X1413
Remember, if the link isn't working (which it should), just copy and paste the link into your browser and click enter and it should work just fine.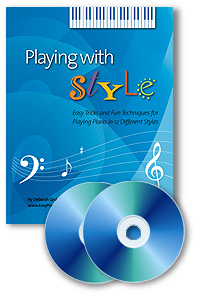 I am teaching two classes in July too. Here they are:


Instant Piano for Hopelessly Busy People - Tuesday, July 8th, 6-9 PM Brookline Community and Adult Education

Instant Piano for Hopelessly Busy People - Wednesday, July 16th 6-9 PM The Cambridge Center for Adult Education
Well, that's it for today, my friends.
Be well.
"A song a day keeps the doctor away"

Sincerely,
Debbie
EasyPianoStyles