Friday, January 22, 2016

Hello

This video lesson teaches you a fun blues riff for the right hand. The riff is demonstrated in the key of C and then the key of G. Use this in between phrases when you are playing any song with a blues flavor.
Enjoy!

Watch Lesson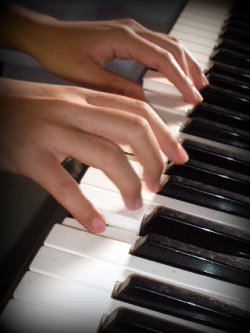 If you live around the Boston area, come visit me at some upcoming restaurants and bars where I will be playing and singing! I would love to meet you.


Friday, January 22, 6:30-9:30PM - TEWKSBURY COUNTRY CLUB
1880 Main Street
Tewksbury, MA

Friday, January 29, 8-11PM - EMERALD ROSE
785 Boston Road
Billerica, MA

Saturday, February 6, 7:30-10:30PM - GINGER GOURMET
265 Main Street
North Reading, MA

Saturday, February 13, 6:30-9:30PM - TEWKSBURY COUNTRY CLUB
1880 Main Street
Tewksbury, MA



That's all for today. Have a relaxing weekend and remember....
Love your piano and it will love you back!
Sincerely,
Debbie
President
www.EasyPianoStyles.com