Wednesday, July 15, 2009
Hello

Thank you to so many of you who responded to the last week's eNotes. I'm so glad you enjoyed the song that I wrote with my kids. I read them all of your emails. That eNotes, by far, was the most popular one I've ever sent!

I've decided NOT to go audio with this one. Instead we'll have a good old-fashioned newsletter. Nothing fancy. Written words only.The topic? How to make a wicked cool chord by combining two chords together. We'll call it.......


Peanut Butter and Chocolate - Two Chords Combined Makes Something So Delicious!!


So first, don't we all agree that Reeses Chocolate is the best? It's that killer combo. Well, let's do the same with two chords. Two ordinary chords. We'll overlay one on top of the other and voila, Reeses Peanut Butter Cup. (yes, I love sugar, almost as much as piano. Maybe more.)

We'll start with a C7 chord. The left hand will play only the root and the seventh so that's C and Bb above it.

The right hand plays a minor chord starting on the note that is one half step above the C which would be a C# Minor Chord. So that's C#-E-G#.

Mix well(play together) and you have a very nifty jazzy chord. You can do this with any seventh chord. Wanna know what you are playing? You are playing a C7 with a b9 and #5. The fancy word for this is Upper Structure Chord. There's a lot of dissonance here but it's beautiful.

Try using this in some songs!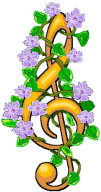 Summertime Serenade - One Night Piano Workshop. - Update!

Less than 2 weeks to go before the class begins. From the feedback I have received, many people are scared off thinking that this is going to be too advanced of a class. Don't worry, It's turning out to be more of a beginner class than I had originally planned which is fine! Still openings. Here are the stats again.

Learn to play two songs - "Summertime" and "Tenderly" . Learn all the chords and interesting embellishments and techniques for playing ballads. Every student will have their own keyboard to play on.

When: Tuesday, July 28, 6:30-9:30PM

Where: Keys-for-Kids, beautiful, modern piano studio right outside of Lexington Center in Lexington, MA.

Cost: $85 includes apres class beverage at Starbucks!
Limit: 10 students only.

Mail check to EasyPianoStyles.com, PO Box 1360, Burlington, MA 01803. I will email confirmation that you are accepted.
If you have any questions, don't hesitate to call me.



FREE A CAPPELLA CONCERT


My a cappella group "The Wicked Pitches" (you can find our music on CDBaby and iTunes), 6-voice, mixed pop/jazz vocal group, will be performing at Wayside Commons Outdoor Gazebo on Wednesday, July 22, at 6:30PM in Burlington, MA. Come on down and enjoy some tunes! Cold Stone Creamery is right there too (keeping up with the sugar theme). If you come, please be sure to say hello!

Well, that's it for this week.
Be good.
Debbie
"Summertime, and the living is easy"

Sincerely,
Debbie
www.EasyPianoStyles.com