Wednesday, August 31, 2016

Hello

It's the last day of August. Seriously? But I never went berry picking or swimming in the ocean. Wait! Stop!

But the flip side is the fall, such a gorgeous time of year and a great time for new beginnings, new projects and a fresh start. I think of September as being the beginning of a new year, really. Much more than cold, harsh December.

So, with that in mind, I introduce the next lesson on the left hand roll. I use this, literally, all the time in my playing. It's a really pretty fluid, flowing sound that you can incorporate into many of your ballads, whether you are singing or not. Have a listen!


Watch Video
New Sing and Play Bundle


The PianoPalooza DVD with Flashcards is quite popular so I've decided to combine it up with two other products, give a deep discount, and offer this bundle for the singers out there! This bundle includes the Chords to Go CD to learn and drill the 48 most common chords you will find in fake books.
It also includes the PianoPalooza program which will give you 15 techniques for breaking up the chords. Then, we've tacked on the Shower Singing in Public book and CD which gives over 100 vocal exercises and four song charts. It also includes a 25-minute vocal warm-up. This program is used for hundreds of singing classes I have taught for the past 20 years!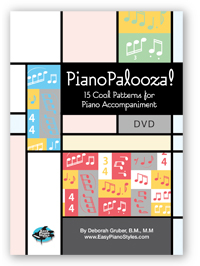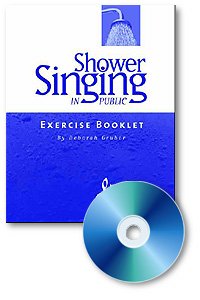 This is a $70 value (if purchased separately) but the deep discount until September 7th is $45!(plus shipping).

Order here


That's it for today. "See you in September" as Frankie Valli and the Four Seasons say.....
And remember Love your piano and it will love you back!
Sincerely,
Debbie
President