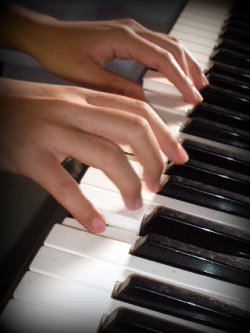 Sunday, July 28, 2013

Hi

This video piano lesson is about getting to know the piano keyboard.

Do you find that you are always looking at your fingers when you are reading a chart and then you loose your place in the music when you look back up?

Do you find yourself tripping on the keys when you play so that you never have a nice smooth flow to your music?

This may be because you don't really know where those notes are. You need to learn the distance between the notes and where they are in relation to you. To do this, you need to practice with your eyes closed or looking up but not down at your fingers! I am determined to help you learn those notes so you can play musically without fumbling!

It can be done!


Click Here to Watch Video
If you like this video, please like it and comment on the YouTube Comment section and share it with your friends. Get the word out, piaying the piano is fun!!
Sincerely,
Debbie
President

EasyPianoStyles