Friday, February 14, 2014

Hi

First, may I say, Happy Valentines Day! I am feeling the love for all of you who enjoy and appreciate these eNotes lessons. Whenever I receive messages via the website, Facebook or YouTube, it warms my heart and makes it grow like the Grinch! So thank you, thank you, thank you.

There are a few new things brewing at EasyPianoStyles.com. One is a webinar series and the other is a special Membership program. More on those later as I brainstorm ideas. We are going more digital here (as is the rest of the world!). Almost all products are available digitally now (just ask) and Skype Lessons are becoming increasingly popular (and they do work!!). But there is more in the works.

But right now, I am having a What D'Ya Think? contest. Simply answer these 6 multiple choice questions and the winner(s) will be chosen (two of you) to receive my famous chocolate chip cookies AND a free DVD of your choice! So let me hear from you!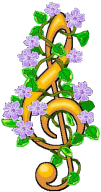 Have wonderful, lovely, warm and fuzzy day.
Be well and remember.....
Love your piano and it will love you back!
all my best,
Debbie
President

www.EasyPianoStyles.com