I am so very happy to announce that "The Piano Express" has finally pulled into the station! It's here.

It has been copied, duplicated and is ready to go. I'm very proud of this program because it will really teach you the basics of reading chords, learning chords, and playing melodies to go with them.

It is a beginner book. If you have taken the "Instant Piano" class, this program works well as a companion book. You will learn new songs, new types of chords (like Minor Sevenths, oo-la-la!), introduction to Primary Chords in any key, all chords diagramed and tons more!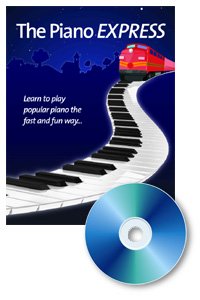 To order the book and CD (which is $25 plus $3 shipping), you can send a check for $28 to Easy Piano Styles, PO Box 1360, Burlington, MA 01803 or just pay with Paypal on the website. It's very safe and easy. Here is the link. When you get to the page, scroll down and you will see The Piano EXPRESS.
EasyPianoStyles.com.


If you have any questions, feel free to contact me. If you live in the Boston area (as opposed to Kansas or Pennsylvania) and you would like a few lessons over the summer, I have a couple of opening left!


Take care. I will send out a new eNotes in 2 weeks. Happy Summer!


Yours truly,
Debbie Gruber
Debbie@EasyPianoStyles.com