Friday, May 19, 2017

Hello

Well, top of the day to you! What a marvelous sunny Friday it is here in Massachusetts. The sun always puts me in a good mood. You too? Especially when it hasn't showed up at the party for a month even though its been invited constantly.
Today's lesson will teach you four different ways to build a bass line in the left hand. We've got chromatic approach tones, scales, chord outlines, and rhythm patterns. All of this adds up to excitement, motion and jazz flair. No more just holding the chords in the left hand. We're soon past that, right?

Click Here to Watch Lesson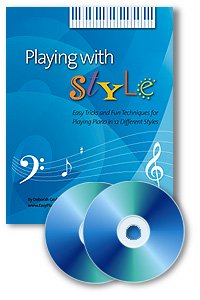 To learn lots more techniques for the left and the right hand, check out Playing with Style. For the next 5 days, until May 24th, you can receive the digital version of this program for $35 (down from $46) and of course there is no shipping charge!



Okay, now go out and enjoy your day and we'll talk next week again. Much love,
Debbie
President
p.s. New business starting! Very excited. Will tell you more soon. Here is the logo. One song, one night.