Wednesday, July 24, 2019

Hello

How are you doing? I was all set to do a lesson on a reharmonization when I thought about the blues and just had to do another lesson on it!

You see, the blues informs all popular music. It is the foundation of folk, Rhythm & Blues, Gospel, Spirituals, Pop and of course, JAZZ. Where would we be without the blues in music? Not a very cool place I tell ya!

This lesson teaches you three voicings for three chords you will find in the blues. Then you will learn the 12 bar blues progression and a beginner way to start learning how to improvise.

All that in just over 6 minutes!


Click Here to Watch Lesson

The lesson you just watched was taken directly out of my program called The Color of Blues. It is a program that gives you a systematic method for learning blues voicings and chords, the blues scale, blues riffs and boogie patterns. it included 2 DVDs and a 42-page booklet. It is also available digitally which means you can receive it immediately through a download and save on shipping! $45 for digital download and $55 for physical copy.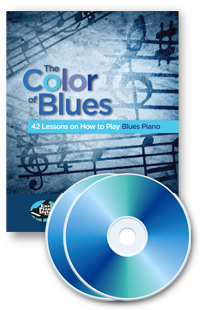 Well, that's all for today.Remember, Love Your Piano And It Will Love You Back!
Much love,
Debbie
President
EasyPianoStyles.com
p.s. Anyone watch "Breaking Bad"? I am "addicted"........... to the show.