Saturday, April 22, 2017

Hello

I hope you are having a great day. I just finished listening to a recording of Teddy Wilson playing with the Benny Goodman trio at Lincoln Center. Wow is all I can say!


Special Offer

I'm not sending out a video this week BUT I do have a special offer. If you'd like to learn over 150 techniques for embellishing those chords, now is your chance to learn them.

In the Piano Bundle #2, you will receive 9 DVDs, 3 books, 4 CDs and Flashcards. All materials are available digitally as well. The discounted price was $199 but through April 26th, the price will be discounted to $169 plus FREE SHIPPING (domestic only).


Click on below image and scroll to bottom to see all products in the Piano Bundle #2.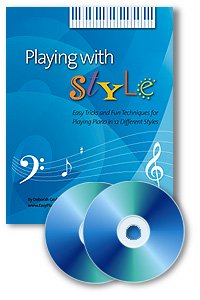 Upcoming Classes

I will be teaching Instant Piano for Hopelessly Busy People at Keefe Technical Vocational High School in Framingham, MA this Tuesday night, April 25th from 6:30-9:30PM.
Click Here to Register

I will also be teaching Instant Piano for Hopelessly Busy People and Shower Singing in Publicon Saturday, May 6 at the Cambridge Center for Adult Education in Cambridge, MA. Every student has their own keyboard.
Click Here to Register

I debated whether to send you this link to a video that I absolutely ADORE because it doesn't have anything to do with piano. But, you know, it's fabulous music by Daryl Hall and his band, with guest artist Wyclef Jean. I just can't get enough of this - hypnotic vibe, great singing and harmony and handstands!!Watch this if you want to be uplifted anytime, anywhere.

Wyclef Jean at Daryl's House

Talk next week.
Much love,
Debbie
President