Tuesday, March 27, 2018

Hello

This video is part one of a series on how to construct a bass line for the left hand. You gotta learn this if you want to play swing jazz piano!
In this lesson, we are using the song "I Got Rhythm" to demonstrate the technique. You can use this when you have two chords per measure. (You can actually do it when there is only one chord per measure as well).
Really fun.

Click Here to Watch Lesson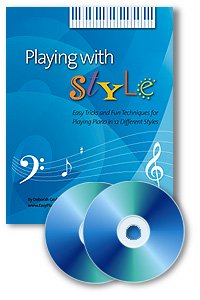 You can order the Playing With Style program digitally and receive it today with links that we send you. Playing with Style has over 25 techniques for both hands and the left hand only. You will get a book with EVERYTHING diagrammed and two CDs and a DVD. Also we are offering FREE SHIPPING until Friday, March 30th! (domestic only).




Remember, love your piano and it will love you back!
Sincerely,
Debbie
President