35 Ways to Break Up Chords With the Left Hand DVD - $18.99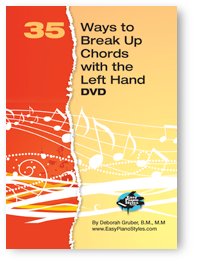 So you have a great fake book with hundreds of songs. You can play the chords in the left hand and the melody in the right hand but it just sounds boring. This DVD will teach you 35 different ways of playing the chord. 

The variations on the chord are not fancy harmonic voicings or complex rolls and runs. Rather they are rhythmic and melodic patterns to add motion and flair to your songs.

The variations are divided into three parts - Blues, Chordal and Single Notes. Some are perfect for a Beatles tune and others for Les Miserable. One you might use for a jazz ballad and another for an upbeat Billy Joel tune It's up to you! 

Every technique is demonstrated and then applied to a song. Thirteen songs are used for demonstration. Multiple techniques are used in one song so you can hear and compare the options at your fingertips.


Also, this DVD includes an insert which notates all 35 techniques! None of the other DVDs have this feature!