The Piano Express - Book and CD $25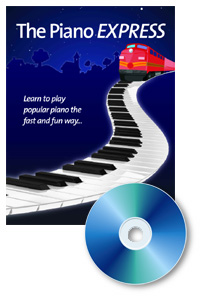 Click on the following Add to Cart button to order hard copies of The Piano Express Book and CD that you will receive by mail:
Click on the following Add to Cart button to order digital versions of The Piano Express Book and CD which will be downloadable:
Debbie Gruber's 'The Piano Express' is a valuable addition to the literature of piano pedagogy because it appeals to different learning styles. Students learn the keyboard, treble clef notation, and helpful shapes and diagrams of black and white key patterns add a tactile element. Also, the method imparts basic music theory and chord hierarchic knowledge, a facet that many piano instruction methods lack."
-- Mark Shilansky, Jazz Pianist, Assistant Professor at Berklee College of Music, Lecturer in Jazz at University of New Hampshire and University of Southern Maine
This comprehensive 44-page Book and CD (20 tracks!) is ready to go! This beginner method for adults starts at the very basic level of learning right hand melody notes. Then it introduces the student to the Major, Minor, Dominant Seventh and Minor Seventh chords.
Songs used for demonstration are from the traditional, folk, pop, and show tune idioms. This is a non-traditional, non-classical method consisting of playing by ear and reading chords. Boring note-reading is over. Let music-making begin.
Students also learn basic techniques for accompaniment and how to transpose songs into their key for singing. All chords are diagrammed on a keyboard "map" for ease in learning them. Every song and technique is demonstrated slowly and clearly on the accompanying CD.
Here are some great lessons you will learn from this program:
** Surprisingly simple method for learning all 12 Major Chords. This will help you immeasurably in memorizing your chords based on visual patterns rather than note-reading.
**How to finally be able to read from a fake book - We will de-mystify the process and show you just what those symbols mean
**Learn how to Accompany yourself singing! This is a pretty simple process based on solid musical concepts that you have learned in the book. Learn techniques for accompanying a slow ballad and an up-tempo tune.
**Learn three great formulas for constructing major, minor, and seventh chords.
**Stop buying costly arrangements! Develop your own! It's a much more creative approach to playing the piano! You design how you want to play a song. This program shows you how.
**Transpose any song into your key. Many people don't realize how easy this is to do and how much of a difference it can make when you are playing with others.
**Easy trick for figuring out what "key" you are playing in. Then learn the predictable chords that will go with that key. This really accelerates how fast you can learn a song.
**Techniques for reading a melody line easily with your right hand (even if you don't know all of the notes yet). Focus on the intervals and what that means to your right hand piano playing.
**No more bass clef! Everything is melody line and chord. Takes the pressure off all of that tedious note-reading.
So now for the cost of less than one 1/2 hour piano lesson, you will get 6 months worth of lessons that will take you from where you are now to sitting down at your piano or keyboard and playing the music you love to play.
Click on the following Add to Cart button to order hard copies of The Piano Express Book and CD that you will receive by mail:
Click on the following Add to Cart button to order digital versions of The Piano Express Book and CD which will be downloadable: