Shower Singing in Public - Book and CD - $25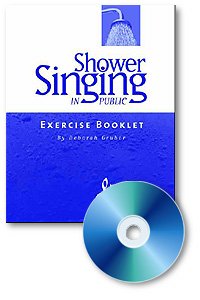 This 42-page Booklet contains 95 exercises that will give those vocal cords an energetic and thorough workout. In this program, you will learn:

*Five breathing exercises to give your voice strength and clarity.

*How to connect the breath to your tone without inhibiting tension

*How to utilize muscles that you didn't know were even there to strengthen and control your voice!

*Four techniques that will keep your body relaxed yet energized and buoyant

*How to physicalize singing with fun, creative and effective movements and gestures

*How to use the vowels to increase resonance and consonants to increase diction

*12 Techniques to develop the brilliance and warmth in your voice

*6 Exercises that will effortlessly increase your range and flexibility.


Also includes:

*Four charts for popular tunes to practice and apply the concepts you've learned. Charts include chords, melody and lyrics.

*Four detailed diagrams illustrating the entire vocal tract so you can finally understand what's going on in your body when you are singing!

AND THERE'S MORE

*CD that includes piano accompaniment and demo version for all 4 songs that are contained in the Exercise Booklet

*CD also includes a 25-minute vocal warm-up consisting of exercises on 6 separate tracks. Pop it in the car on the way to your rehearsal or download it onto your ipod and sing along.

This booklet and CD have been used as the text for the popular Shower Singing in Public class offered throughout New England for the past 16 years!